Sections
Often characterized by the narratives of affordability and supply of single-family houses, housing in the Teton region is complex and expansive beyond traditional market views.
Our community housing needs look like building affordable houses for local families, securing affordable rental rates for year-long valley residents as well as seasonal workers, removing barriers to move up from entry-level to mid-range priced homeownership, providing living spaces for chronically unhoused populations, ensuring transitional housing for families or individuals in need of a safe place to live – and many more.
Facts & Figures
The Current Housing Landscape in Teton County
Nearly half of renters (2,000 residents) surveyed in the Teton Region were forced to move an average of two times over the past three years.
As of 2023, the median sale price for a single-family home grew nearly 40% to more than $5.0M.
Over the next 5 years, an estimated 2,000 below-market housing units are needed for our working families in Teton County.
Housing Solutions
Nonprofit organizations and public sector agencies have been doing critical work in this field for decades. Habitat for Humanity of the Greater Teton Area builds and sells housing units (houses, townhouses, or condos), partnering with homeowners through a nationally recognized system of sweat equity, homeownership education, and individual commitment. The Jackson Hole Community Housing Trust, a not-for-profit housing developer, manages rental homes and leverages private philanthropy and public subsidies to build affordable homes for critical local community members who make less than 120% area median income. The Jackson/​Teton County Affordable Housing Department utilizes public-private partnerships to develop deed-restricted housing, and manages sales, resales, and rentals across its portfolio of local homes. Beyond nonprofit and public sector housing efforts, a robust percentage of employers provide employee housing units or stipends to fill gaps in the system.
The lack of affordable workforce housing continues to be the most pressing issue in Teton County. Despite recent record-setting affordable workforce housing production, addressing housing needs will require local policies, subsidies, and creative partnerships, to build upon the already significant achievements of the town, county, local organizations, employers, private sector, and community (Teton Region Housing Needs Assessment 2022).
The Community Foundation is launching a Housing Initiative to support efforts in this field, aligned with the 2022 – 25 Strategic Plan which prioritizes taking action on root causes of community issues and putting funding to work on community-identified needs.
The Community Foundation of Jackson Hole is uniquely positioned to address affordable workforce housing with a multi-faceted, collective impact-based approach that includes convening partners, collaborative resourcing, education, and social impact investing. Unlike most collaborations, collective impact initiatives involve a centralized infrastructure, a dedicated staff, and a structured process that leads to a common agenda, shared measurement, continuous communication, and mutually reinforcing activities among all participants (Stanford Social Innovation Review).
The Community Foundation's Housing Initiative will bring together a diverse group of voices from all sectors to create affordable housing solutions so local, working families can continue to call Jackson home.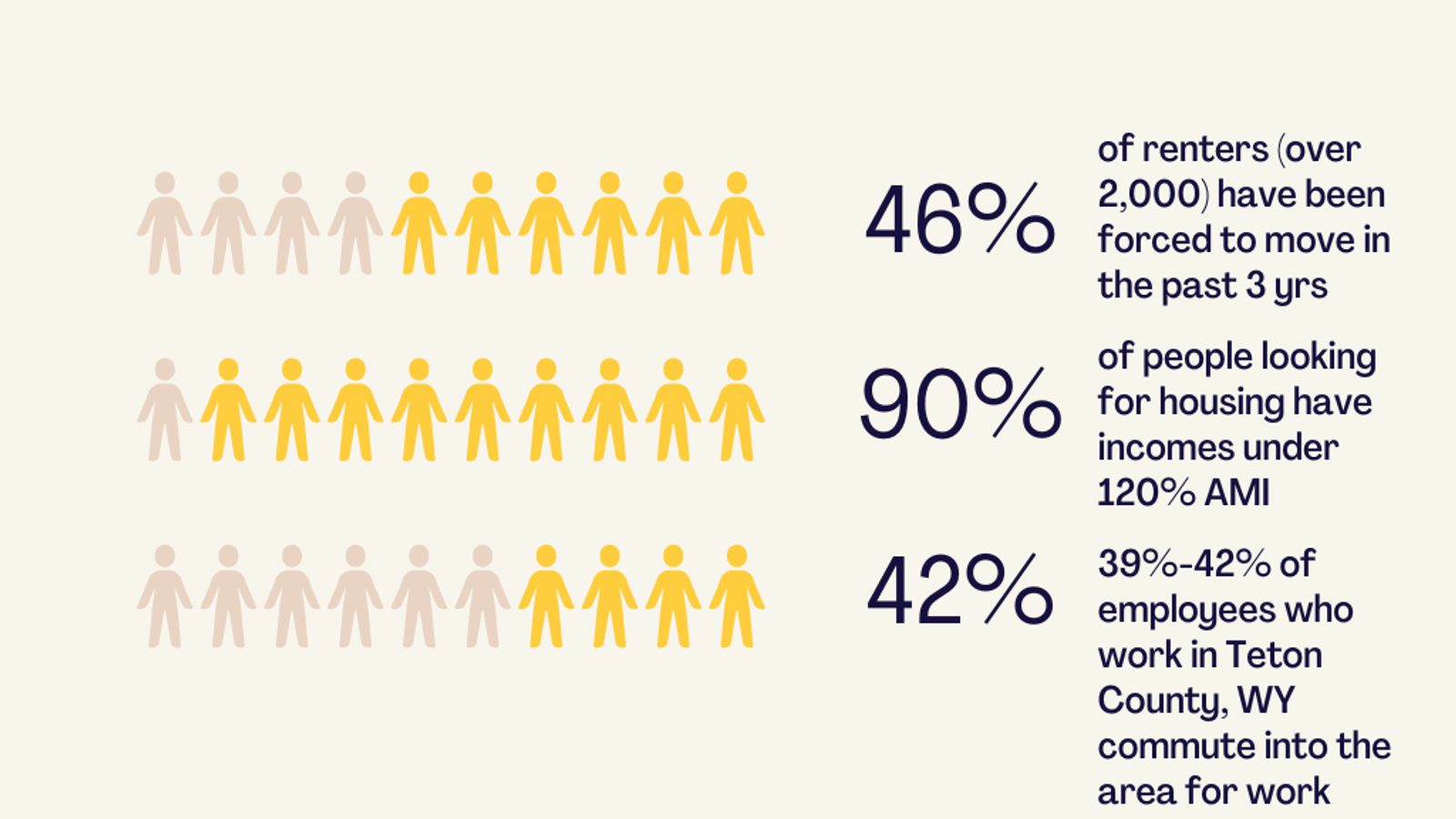 Next Steps
The Community Foundation's newly hired Director, Housing Initiatives will be responsible for:
Establishing and supporting the Housing Collective (a diverse representation of community stakeholders)
Understanding and maintaining regional housing data
Developing and implementing a collective impact strategy
Building support for the overarching regional housing initiative