Philanthropy is uniquely personal. It reflects your aspirations and values. It expresses your humanity and your empathy. It's good for your health, your heart, and your soul.
But how can you be certain you'll make the most impact with your contributions? At the Community Foundation we can help you make your charitable giving purposeful and effective. Our experienced staff provides insight into community needs and prudent due diligence. Whether you're making an annual gift or creating an endowment, we offer flexible giving options, professional investment management and simplified administration. The benefits are great. The rewards are priceless.
The Giving Process
We make it easy to make your generosity count.
Let's get started!

Define Your Charitable Objectives
Identify where and how you want to make a difference. Decide how involved you (and family members or advisors) want to be both financially and in terms of participation.
Determine Your Financial Objectives
Are you looking for any tax or estate planning benefits? If so, we can help you with information about the advantages of different types of gifts so that you can fit your philanthropy into your financial plans for optimal effect.
Create or Contribute to a Fund
Once you've come up with answers for Steps 1 and 2, we will work with you to create a fund that meets your objectives. Or, if there is an existing fund that meets your needs, your contributions will not require a new fund agreement.
How May We Help?
Our team of professionals offers local insight and expertise to help you make the philanthropic impact you want — and build your lasting legacy.

Experienced
We are a trusted, knowledgeable team committed to collaborating with community partners to develop creative solutions and promote lasting change.

Personalized
Our experienced staff offers guidance at every step to make the most of your philanthropic dollars. We're happy to meet with you or your financial advisor to discuss how to turn your plans into action.

Flexible

Whether you want to give now or in the future — locally, nationally or globally — our goal is to make your philanthropic vision a reality. You're at the wheel. You can be as hands-off or as hands-on as you like.

Private
We honor when and how you want to be recognized for your contributions. If you prefer anonymity, we will protect your identity. Your personal information will never be disclosed without permission.

Local Commitment
Our staff and board are made up of community members and volunteers living in Jackson Hole. We are experienced in providing strategic support to nonprofits and addressing local issues at the systems level.

Old Bill's Fun Run
This annual event is a national model for collaborative fundraising. Old Bill's increases the impact of contributions to participating local nonprofits with matching gifts from Mr. and Mrs. Old Bill and our CoChallengers. Since 1997, Old Bill's has inspired thousands to give millions.

Tax Deductions
Donations you make to the Community Foundation qualify for the maximum available charitable deduction in the year the gift is made. We also offer solutions to help reduce your estate-tax liability.
Giving Options
We accept cash donations as well as a variety of other assets. From planned giving options — to other organizations or our very own Legacy Society — to setting up funds, we offer a variety of easy and secure giving options.
We can help you understand the benefits of different types of gifts and the most effective way to apply them. And we are flexible – if you have ideas of your own, please inquire. We are here to make sure your giving makes an impact.
Karen Terra

Old Bill's Fun Run CoChallenger

"When you talk about the uniqueness of Jackson Hole, you can't do it without talking about Old Bill's Fun Run and the Community Foundation."

Bill Newton

William C. and Gloria A. Newton Donor Advised Fund

"Partnering with the Community Foundation allows me to focus on what I enjoy about giving money away – researching organizations doing important work and ensuring they have the resources to make a difference."

Marshall Rose

Advisor To The Peggy Rose Schneider Endowment Fund

"Since we live outside of Jackson, we rely on the knowledge of the Community Foundation's Grants Committee to evaluate grant proposals… we capitalize on their thorough evaluation, due-diligence, measurement of project results and oversight."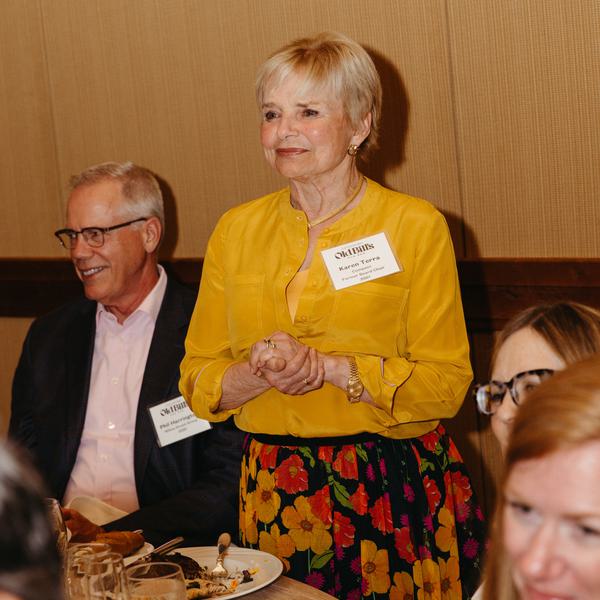 Fund Types & Structures
Whatever your charitable interests, we offer simple, flexible, and rewarding ways to give — whether you are giving $10,000 or $110,000.
We offer seven fund types to meet specific donor, nonprofit, and community philanthropic needs. Each fund can be structured in three different ways depending on the amount in the fund, its life expectancy, and the amount of expected activity.
Honor friends and loved ones by giving to causes that were near and dear to their hearts.
Investment Management
Contributions of all sizes to funds held at the Community Foundation help to empower thoughtful philanthropic investment in our community and beyond.
Getting Started With Donor View
The Community Foundation offers Donor View, a free and secure online tracking system that lets fundholders view fund activity and recommend grants online 24 hours a day, 7 days a week, as a service to our fundholders.
If you are not signed up to use Donor View, contact the Community Foundation (307) 739‑1026 to obtain your confidential user ID and password.
First, login to Donor View to view your fund(s) information. Select any of the figures shown to obtain a detailed transaction record. You can also use Donor View to recommend grants, print fund statements and perform other functions.
If you have a question or are having technical difficulties, contact Erin Lusins, (307) 739‑1026. We are happy to help.